Due to COVID-19, the Board of Trustees has not participated in any events during 2020. Below are reports of previous events which will be considered as events to attend in 2021.
In the picture from Left to Right: Helen Remington, Jeff Remington, and John Gordon.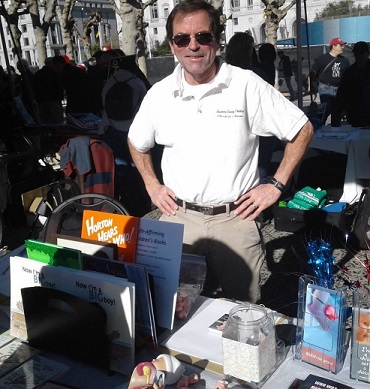 WALK FOR LIFE: WEST COAST 2018: The 14th annual Walk for Life West Coast and Info Faire were held on Saturday, January 27, 2018 in San Francisco. Teachers Saving Children® was well represented at the Info Faire where more than 50 pro-life groups, ministries, and organizations from all over the United States were set up. For three and a half hours, hundreds of people of all ages stopped by our table to ask about Teachers Saving Children®, our mission, and ways by which lessons can infuse the message of respect for the sanctity of human life at all stages. The response was extremely positive. The message of our advocacy for human life was very well received as people were pleasantly surprised to hear that there are pro-life public school teachers who could actually infuse the pro-life message into the public school curriculum.
The picture at the right shows Frank Ebiner at the Info Faire 2018.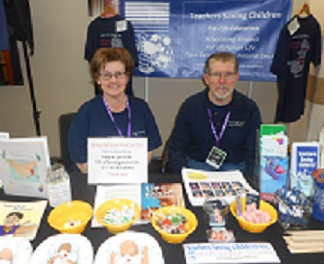 STUDENTS FOR LIFE OF AMERICA CONFERENCE 2018: Jan Luke and John Gordon represented Teachers Saving Children® at the 2018 Students for Life East Coast conference in Upper Marlboro, MD on Saturday, January 20, 2018. As usual, much attention was drawn to our display by our fetal models and highly realistic "newborn." Donations were accepted for books, T-shirts, and other materials in support of our Educational Outreach Fund. About ten students planning careers in education were recruited for new membership.
The picture to the left shows John Gordon and Jan Luke who volunteered at the SFLA Conference in 2018.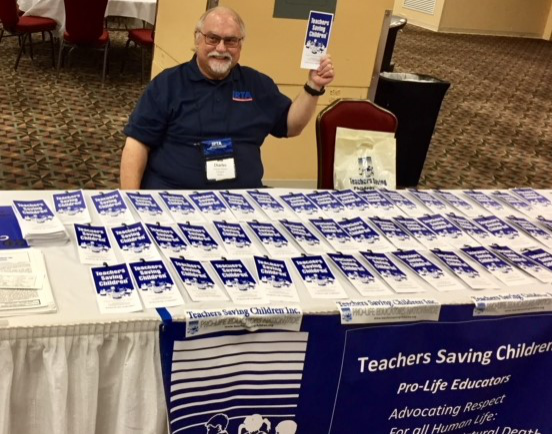 ILLINOIS RETIRED TEACHERS ASSOCIATION CONFERENCE: On Monday, October 30, 2017, Charles Hlavaty, Board of Trustees member, attended the Illinois Retired Teachers Association Conference. He volunteered time at a Teachers Saving Children® table where he handed out information and shared our cause with retired teachers. He had many opportunities to speak with retired teachers who believe in the sanctity of life.
DONATIONS: Your financial gifts to the Educational Outreach Fund allows Teachers Saving Children® Board members to attend these and other events to share with educators the message of Life. Each year we rely on the goodness of God and His people to raise the money needed for these effective pro-life education ministry opportunities. We have never been disappointed with His provision for the way He would have us minister. It is through your giving of $5, $10, $20, and more that the Lord has each year miraculously provided the finances for our Educational Outreach ministry opportunities, and for that provision we are grateful. "The Wonder of Life" exhibit has become the primary means for our organization to communicate the sanctity of life message to educators. Thank you for prayerfully considering being a part of this special endeavor by sending in your contribution today.
NOTE: Please make checks payable to "Teachers Saving Children Inc. – National" or use the donation page on this website. Carefully note how the amount given is to be designated ("Educational Outreach") so that the contribution will be appropriately allocated. As a tax-exempt organization approved under Section 501(c)(4) of the Internal Revenue Code, contributions received are NOT tax deductible.